Depression is 2.5 times more common than Post-Traumatic Stress Disorder in UK police officers

New research, carried out by King's College London and Imperial College London with a large sample of over 40,000 police officers, found that around 10% of police officers reported symptoms of probable depression compared to approximately 4% who were reporting symptoms of probable Post-Traumatic Stress Disorder (PTSD). We also found that probable anxiety disorders were more common than probable PTSD (8.5% vs. 3.9%).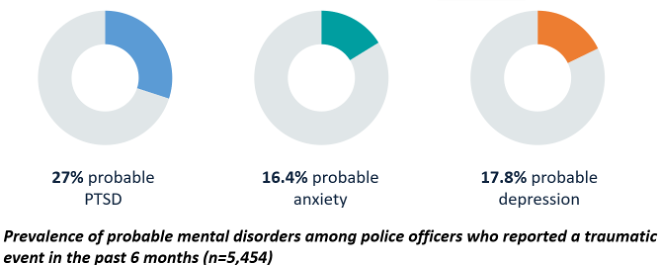 When we looked at police officers who had experienced a traumatic event in the last six months (n=5,454 (14.4%)) mental health problems were much more commonly found than in those who did not report a recent traumatic event. Our data show just under a doubling of the risk of probable depression and anxiety disorders (17.8% and 16.4%) and an around six times increase in the rates of probable PTSD (27%). Other groups at risk for probable mental disorders included police staff (compared to police inspectors or constables/sergeants) and those who reported heavy drinking.
We also explored whether poor mental health was related to changes in blood pressure. Although we found some minimal differences in police officers' average blood pressure, the small increase was unlikely to be clinically significant. However, police officers who met the criteria for probable depression or anxiety disorders (but not PTSD), were more likely to self-report a diagnosis of high blood pressure.
This is one of the largest studies to date which has examined the mental health of the UK police. The study included both uniformed and civilian police staff both of whom work together to keep the UK safe. Our results find  lower estimates of probable mental disorders compared to previous studies done which often have been carried out with smaller, less-representative samples of police officers.  However, this does not take away from our finding that some groups of police officers are at increased risk of mental disorders such those who were recently exposed to a traumatic event compared to those with no recent traumatic exposure.
How do the police compare to the general population? We need to be careful when making comparisons for a number of reasons. Often different measures are used to examine the presence of mental disorders and importantly police officers are more likely to be male and younger compared to the general population which makes direct comparisons problematic. Our initial findings indicate that, overall, police officers are no more likely to report symptoms of probable PTSD, anxiety or depression than the general population.
Lead author, Dr Sharon Stevelink, King's College London: "Our findings highlight the importance of continued health monitoring of members of the UK police forces. Support should be particularly focused on those recently exposed to traumatic events, heavy drinkers and police staff. Furthermore, the higher prevalence of anxiety and depression among police officers indicate that prevention, early identification, and treatment initiatives should focus on the complete spectrum of mental disorders".
The full paper, entitled 'Probable PTSD, depression and anxiety in 40,299 UK police officers and staff: prevalence, risk factors and associations with blood pressure', can be found here.
The data in this study are from the Airwave Health Monitoring Study, collected by Imperial College London.
Photo by Ethan Wilkinson on Unsplash